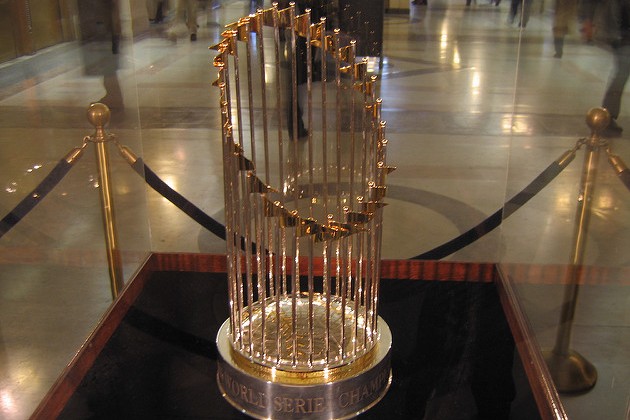 (Photo By Flickr User Eric)
"Go Cubs Go, Go Cubs Go, Hey Peoria Whata Ya Say, The Trophy's Comin' To The River City"
The Cubs Trophy Tour, presented by State Farm, is coming to Peoria, IL to give fans the opportunity to see and take photos with the 2016 World Series Trophy. The trophy will be at the Peoria Civic Center Ballroom, located on the 4th floor of the facility, Thursday, March 9th, from 1:30pm – 3 pm This event is free and open to the public; however, the trophy will be removed from the building around 3pm.
The Peoria Civic Center Marquee entrance doors will open at 8am, at which time fans will be allowed inside as capacity allows. Fans wishing to arrive earlier than 8am are asked to line up outside of the Marquee entrance doors, for a map visit https://www.peoriaciviccenter.com/trophy-tour.
The Trophy will be here for a limited time only and thus not everyone in line is guaranteed a chance to see it. The first 500 fans will receive a wristband to ensure their opportunity to view the trophy. Additional fans will be accommodated if time permits.
Fans and visitors can park in the Peoria Civic Center Marquee and Fulton lots at no charge. Overflow parking is available throughout downtown Peoria. Accessible parking is available in the Peoria Civic Center lots and in surrounding parking decks.
All trophy and event related questions should be referred to Chicago Cubs Fan Services at 1-800-THE-CUBS  or 1-888-THE-CUBS (843-2827 for both numbers).